This site best viewed at 1024 x 768 screen resolution.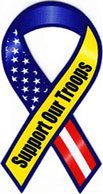 Please note that my new email address is:
ggray1953 "at" sbcglobal.net
I have encripted this address in order to reduce SPAM mail.
Those of you familiar with email protocol will be able to decipher it with no problem.

VISIT THE WWII MEMORIAL

(Photo by Richard Latoff)

SITE INDEX

Now featuring over 1,000 photos!
View the Jolly Roger Guestbook
Sign the Jolly Roger Guestbook
© 2001-2009 Gary Gray
SITE CONTENTS

Powered by WebRing.